Mary Elizabeth Ingham was born in New Mills on January 25th 1844. She was the only child of James Ingham and his second wife, Martha. (James had other children by his first marriage to Mary Ann Bridge, but we know that their two small sons died as children.)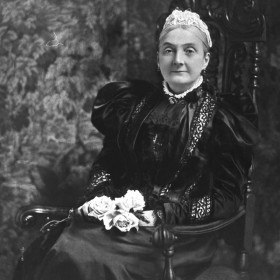 Mary Mackie (1844-1922)
Mary was born in New Mills. Her parents, James and Martha Ingham, were also known for their philanthropic works. The neighbouring almshouses were named after them. James owned a calico printing factory, the Watford Bridge Printworks in New Mills.
New Mills Local History Society, Picture New Mills image n01226
The Inghams are recorded in the 1851 Census as living at London Place (the group of old, white buildings at the bottom right of the picture below). Later, they lived at Watford Villa, further up the hill.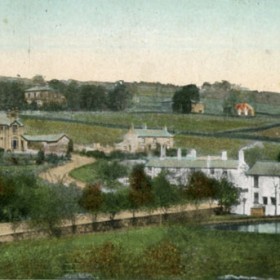 New Mills Local History Society, Picture New Mills image n01407
The Ingham family were wealthy: James Ingham owned Watford Bridge Print Works, a large cotton printing business situated opposite London Place. James and Martha Ingham were generous benefactors and took an active part in New Mills town life. After James' death in 1868, Martha continued to contribute to projects in the town.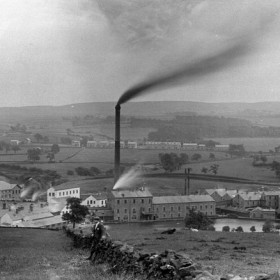 Watford Bridge Print Works probably early 1900s.
New Mills Local History Society, Picture New Mills image n00399
Mary married John Mackie in 1866. After her father's death in 1868 the couple set up home in Watford Villa, although they also kept a residence in the Yorkshire village of Crigglestone, around 35 miles away.
John Mackie was born in 1837. The Wakefield Mackies were landowners, corn merchants and coal owners. Wealthy and influential, they were very involved in the Church of England. John continued this tradition, playing a big part in the Church in New Mills after his marriage to Mary.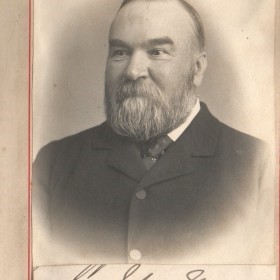 John Mackie (1837-1891)
John's interest in education led him to become chairman of the local school board and president of the Mechanics Institute. He later became the first County Councillor for New Mills, elected in 1889.
New Mills Local History Society
John died young, aged only 54 years. Obituaries in the local press give details of his activities and his character. One of his fellow magistrates said of him: 'With his sympathy and his purse he was always ready to help on every good object.'
New Mills Local History Society, Picture New Mills image n04053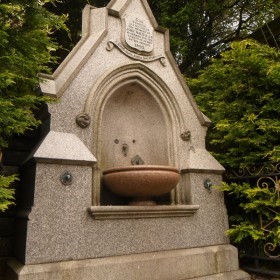 Mary had this drinking fountain built in memorial to John. It supplied free, fresh water at a time when few people in New Mills had water piped to their homes.
This elegant drinking fountain is still in place in front of the Town Hall but no longer working. The inscription on the stonework reads: 'This fountain is erected to the memory of John Mackie J.P.  Alderman for the county of Derby by his friends 1892.' The quote beneath is from St Luke 23:50: 'A good man and a just'
Mary and John built these almshouses in 1880 to serve 'poor and aged persons'. The name of the buildings is inscribed above the leftmost window – they are called the Ingham Almshouses as a memorial to Mary's parents.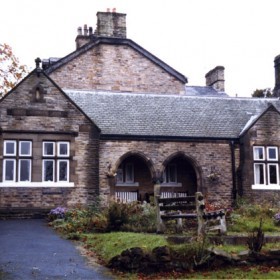 New Mills Local History Society, Picture New Mills image n08301
'The almshouses, six in number, erected from the designs of Mr. W. Swinden Barber F.R.I.B.A. are built on three sides of a quadrangular plot of land near Sprink bank, in New Mills; the dwellings occupying the north and a portion of the east side of a quadrangle, the west and south sides of which are appropriated to the church; they are occupied by 11 poor and aged persons, who receive a weekly allowance from Mr. and Mrs. Mackie.'
Kelly's Directory of Derbyshire, Leicestershire & Rutland, and Nottinghamshire, 1891, p269

The chapel of St James the Less was erected alongside the almshouses as a 'chapel of ease' to save the residents the long and steep hike to the parish church of St George's. Some people think it was too fine a building just to serve the almshouses, and have suggested the Mackies might have had other motives in building such a beautiful church.
The Mackies contributed a lot to the growing town of New Mills. They were strong supporters of education in the town and John became chairman of New Mills School Board from 1875 and president of the Mechanics Institute from 1887. Here young men and, perhaps, women, were able to study chemistry, a subject of great importance for a town based upon textile dying and printing. After his death in 1891, Mary funded a number of projects in memory of him, including the Mackie Memorial Library (now the Adult Learning Centre on Spring Bank).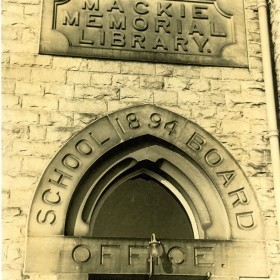 You can see the name Mackie on a number of buildings in New Mills, including the former Board School on Spring Bank.
New Mills Local History Society, Picture New Mills image n07665
John was very involved in all aspects of public life. He was a Justice of the Peace, a County Magistrate and an Alderman. Mary and John were big contributors to the growing town. While John's name is mentioned more often in the historical records, we know that Mary also played her part. She probably had money of her own, and some records reflect personal contributions to specific projects. For example, an article in Baileys Almanac for New Mills and District talks about the people who funded New Mills Public Hall (now the Town Hall):
'The public responded liberally to the appeal for subscriptions…equally liberal were Mr. John Mackie, J.P., who gave £115 and Mrs. Mackie £187 10s., whilst Mrs. Ingram, mother of Mrs. Mackie, gave £137 10s.'

Philanthropy was very common among middle class Victorian families. The Mackies were certainly not unique. There were other wealthy families in the area who shared similar values – Quakers and Methodists as well as Church of England families. We find them acting as Justices of the Peace, in the county councils, on the school boards and so on. You will see how much people like John and Mary did for our little town if you just take a walk around New Mills.