In the 19th and early 20th century religion and church going were far more important in most people's lives than today. In 1881, just after St James the Less opened, there were 5,379 people living in New Mills. Serving this small community was a huge range of churches and chapels.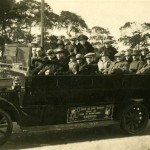 Church outing to the seaside in a charabanc, around 1925 – a bit of a squeeze.
New Mills History Society, Picture New Mills image n05592
'The church, dedicated to St. George, is a modern structure with a spired tower…The Wesleyans, Primitive Methodists, Association Methodists, Independents, and Roman Catholics have each a place of worship.'
National Gazetteer, 1868, describing the churches of New Mills.
Although the Church of England was the state church, in New Mills, typical of independent-minded northern industrial towns, other branches of Christianity, such as Methodism and Quakerism (Society of Friends) were popular. Kelly's Directory from 1891 lists the following, with the approximate dates they were built:
Church of St. George, at Beard (1831)

Church of St. James the Less (1880)

St Mary's Catholic Church (1838)

Wesleyan chapel, St. George's Road (around 1810)

Primitive Methodist chapel, Spring Bank (1876)

Free Methodist Chapel, Spring Bank (1838)
Meeting House for the Society of Friends, Low Leighton (1717)

United Methodist Free church chapel, Roworth

Primitive Methodist chapel, Brookbottom (1874)

Primitive Methodist chapel, Thornset (1869)

I

ndependent chapel, Thornset

Congregational chapel, Whitle (1736)
One of the oldest buildings in New Mills is a Quaker meeting house, built in 1717, when the town was only a collection of small villages. You can see this fine building today behind the Hare and Hounds pub on Low Leighton Road.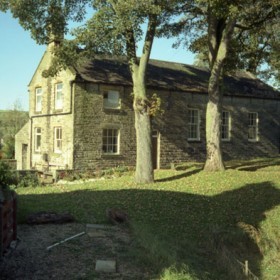 The former Society of Friends Meeting House, Low Leighton, New Mills.
New Mills History Society, Picture New Mills image n03109
Methodism has been a feature of the town's religious make-up since the mid-1700s. John Wesley (the preacher whose teachings the Methodist movement is based on) preached in New Mills many times in the mid and late 1700s. He had a large and devoted following in the area.

At first, Wesley's followers met in homes, farms or in the open air. In 1766 a Wesleyan church was built on the High Street. The Wesleyans soon outgrew this first site and in 1808 built a larger chapel just across the river (pictured). This building was demolished in the 1970s but the graveyard on the site remains at the bottom of St George's Road. It might seem ghoulish but headstones can make very interesting reading. New Mills History Society has a list of the graves on their website.

Later, many different Methodist chapels were established in New Mills and the surrounding area, catering to different movements of the Methodist church.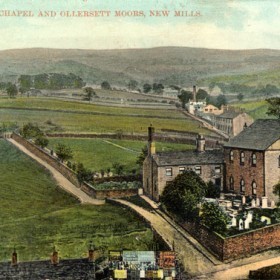 New Wesleyan Chapel (now demolished) built in 1808.
New Mills History Society, Picture New Mills image n04055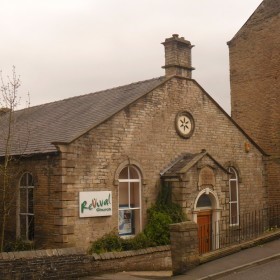 The old Wesleyan church became the Sunday School. It was rebuilt in 1844 and is now the Revival Church on the High Street. 
Until 1831 when St George's was built there was no local Church of England in New Mills.  Look again at the Wesleyan chapel picture above. The view stretches back into fields, farms and moorland. It was in the middle distance, where there are no houses, that the Church of St George was built – not at all convenient for the town.

St James the Less (now home to Spring Bank Arts) was built as a Chapel of Ease for the Church of England. It saved the elderly residents of the adjacent almshouses the steep walk to St George's.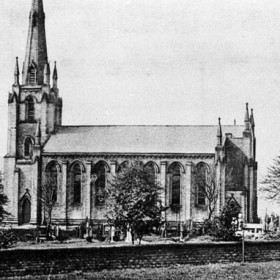 St George's Church, the main Church of England church in New Mills, taken around the 1920s by H Critchlow.
New Mills History Society, Picture New Mills image n00601
Church going was much more than a religious activity in the Victorian age. Right up to the second half of the 20th century church was a focus for social activities. Amateur dramatics, sports, festivals and outings were all part of church life.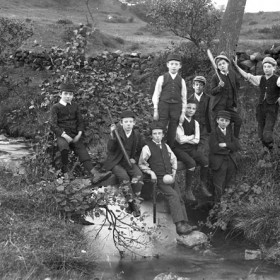 Sunday School class picnic from New Mills Wesleyan
New Mills History Society, Picture New Mills image n05349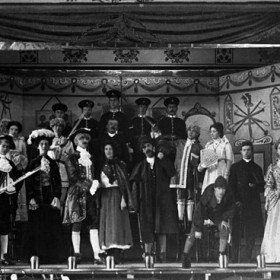 Cast of operetta performed by members of St Mary's Church in the Town Hall around 1911
New Mills History Society, Picture New Mills image n00571
New Mills Sunday School Hockey team organised by Reverend Buckley (Primitive Methodist minister) for New Mills girls from any denomination, around 1920.
New Mills History Society, Picture New Mills image n2055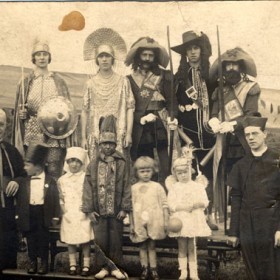 Fancy dress group with clergymen, possibly outside St. Mary's Church, around 1924. Possibly dressed up for Carnival.
New Mills History Society, Picture New Mills image n02029
Many more images of church societies and social events can be found on the Picture New Mills website accessed from the Heritage Links below.